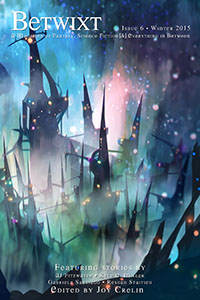 Cover of Issue 6 Betwixt Magazine
A futuristic city of spires, with floating
lights
New Year, new story release! Isn't that a great way to kick off?
My road story
"The Unofficial Guide to Travelling With Kin"
is now available in issue 6 of Betwixt Magazine. You can read it online, and buy a physical hard copy of the magazine. Check out the beautiful cover art by Alex Tooth. Very festive!
What do a unicorn named Bruce, a werewolf called Princess, a Dragon called Boh, and a mermaid called Late For Lunch all have in common? They're four of the crypto-menagerie who hitch a ride with a stranger. They all have something in common - they're running from something to anywhere, and they only have each other to look out for on the road. It's eat or be eaten in "Unofficial Guide".
Enjoy!